Enjoy a better, more reliable cooking experience with the Bosch HBF113BR0B Oven. This integrated single oven lets you take your cooking to the next level, with 5 different heating methods for more inventive and flexible cooking. Available in sleek stainless steel, this electric oven will look smart in any kitchen.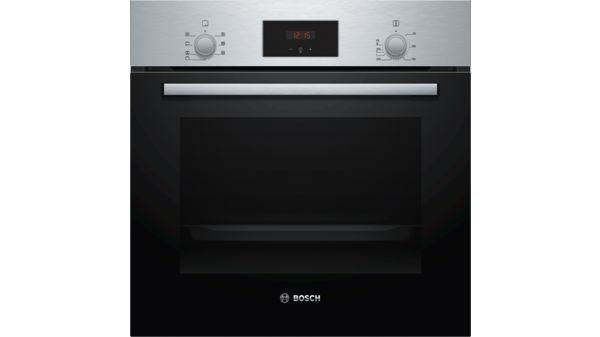 Even Results with 3D Hotair
Get beautifully even results from every dish, with Bosch 3D Hotair technology. Whether you're cooking one dish, or several at once, 3D Hotair makes achieving great results look effortless. The fan technology circulates air throughout the oven cavity, across all levels. So, no matter which shelf you're cooking on, you'll see the same perfect outcome. 3D Hotair also means you can cook different dishes at the same time, without mixing flavours. Making your meal preparation faster and more efficient.
Perfect for Family Cooking
This oven comes with a sizeable 66L cooking capacity. With 5 different shelf positions, fitting everything in is no trouble. The choice of temperatures range from 50ºC to 275ºC. So, whether you're keeping something warm or turning up the heat, this oven can cater for your needs. And with fast preheat, you'll cut down your cooking time for more pleasurable pursuits, like enjoying great food with friends and family.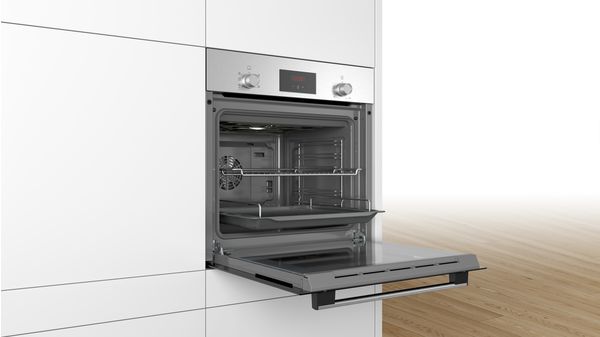 Range of Cooking Methods
Choose from 5 different heating methods, depending on what you're cooking. Featuring 3D Hotair, conventional top and bottom heat, Hotair grilling, Hotair gentle, full width variable grill. Get consistent results when baking, with 3D Hotair. Or with Hotair grilling, you can combine the fan and grill for delicious rotisseries style cooking everyone will delight over.
Easy to Use
The HBF113BR0B is so easy to use. With a clear LED display and rotary dial controls, getting to grips with your new oven will be a breeze. The controls include an automatic start and control panel lock, plus a programmable timer; meaning one less thing for you to remember.
The oven also comes with an easy grip bar handle and drop down door for easy loading and unloading. Plus a bright interior light. So you can keep better track of your cooking.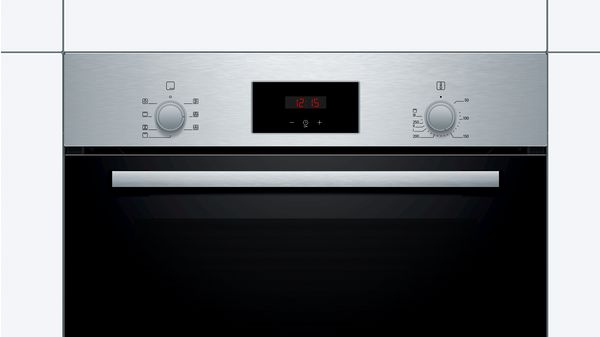 Effortless Cleaning
When it comes to cleaning, the HBF113BR0B is designed for cleaning that is quick and effortless. With a grey enamel interior that's easy to clean, you'll spend less time scrubbing away at burnt on grease or food residue. The enamel coating makes it easy to wipe away mess and spills with a damp cloth or sponge. The oven's inner door glass is removable. So when it's time to clean, you can simply remove it and pop it in the sink or dishwasher for a thorough wash.
Interested? Order the Bosch HBF113BR0B Oven today from Joe Graham & Son Ltd. We are a trusted local retailer and we guarantee the best price on all of our Bosch appliances. Order in store, online or by phone to collect or for fast delivery across Luton. Call us on 03301347706 to find out more.