Cut down on food waste, with the Serie 8 Bosch KIF84PF30 Fridge Freezer. This built in fridge freezer comes in a smart white finish. Featuring lasting freshness technology, the KIF84PF30 is perfect for getting more out of your weekly shopping.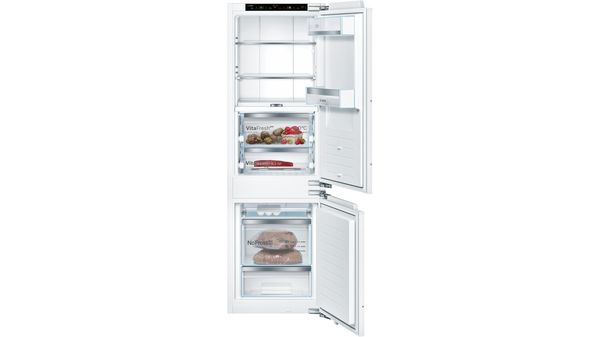 Spacious Storage for Chilled & Frozen Food
Take advantage of the fridge freezer's 234L capacity to store all your weekly shopping comfortably. You can fit up to 13 bags of shopping across the fridge and freezer compartments. Flexible fridge storage makes putting away your groceries even easier. With VarioShelf you can fit even tall items in. The sectioned glass shelf can be separated, sliding one panel underneath the other. Perfect for making room for bottles, bowls and jugs.
And in the 75L capacity freezer, the extra deep BigBox drawer provides ample space for large items such as cakes or pizzas. Or, you can use it for stacking frozen items. The drawer slides out smoothly and is clear fronted. So, you can easily see what you've got.
With premium LED lighting that will last the lifetime of your appliance, you'll have no trouble seeing what ingredients are available for your next mealtime. Helping you prevent food waste, with no food left hidden at the back of the fridge.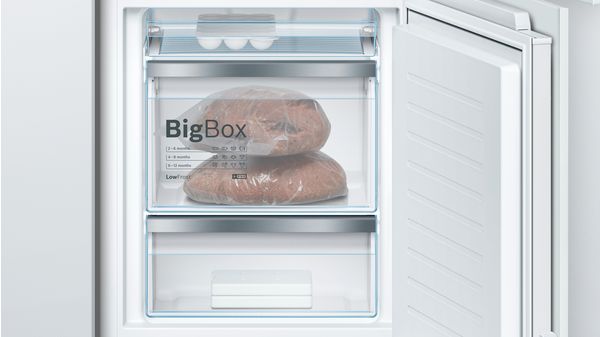 Prevent Food Waste with Lasting Freshness Technology
Bosch is committed to cutting down on unnecessary food waste. With this in mind, they have developed superior lasting freshness technology, that helps food stay fresh up to 3 times longer. With FreshSense, intelligent sensors monitor and regulate the internal temperature, ensuring it stays constant. A constant temperature helps prevent food from losing its freshness, as well as locking in important nutrients.
And for food that spoils easily, there is VitaFresh. The KIF84PF30 comes equipped with 2 VitaFresh drawers. A humidity controlled drawer that provides optimal conditions for storing fruits and vegetables. And a low temperature drawer, perfect for meat and fish.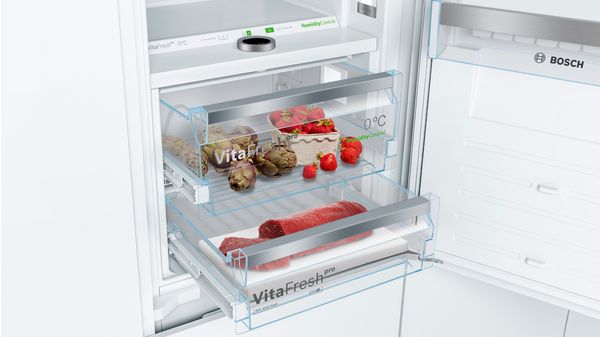 Rapid Chilling & Freezing to Lock in Freshness
The problem with adding fresh groceries to your fridge or freezer, is that these can often cause your other items to defrost or increase in temperature. Fortunately, with Bosch SuperFreeze and SuperCooling rapid chilling and freezing technology, you won't have to worry. Before going shopping, simple activate the SuperFreeze or SuperCooling with the touch of a button. The temperature in your fridge freezer will drop, preventing contents from defrosting when you add new groceries. The temperature will switch back automatically after a few hours to prevent energy waste.
Save Money on Your Energy Bills
With an A++ energy rating, the KIF84PF30 is up to 25% more economical than any standard model. 2 separate cooling circuits help save energy. Each can be controlled independently using the built in electronic display, allowing you to set the perfect temperature for your groceries.
And if you go away, activate Holiday Mode to save energy while you're gone, while still protecting your frozen items.
On top of all this, thanks to the fridge freezer's LowFrost technology, you'll spend less time defrosting your appliance. LowFrost helps reduce ice formation, making the KIF84PF30 even more energy efficient.
For the lowest price on the Bosch KIF84PF30 Fridge Freezer, shop with Joe Graham & Son Ltd. Experience a friendly local service, combined with fantastic deals on all appliances. For more information, contact our team. You can order your fridge freezer in store, online or by phone. We offer collection or delivery options throughout Luton. Get yours today.