Deliver more power to your washing with the Serie 2 WAB28161GB Washing Machine from Bosch. This front loading, freestanding washing machine features a 6kg capacity. Perfect for medium sized households. Consumer advice website Which? states that a 6kg machine can fit up to nine towels in a single cycle. And with a 1400 rpm max spin speed, you won't be left with clothes that are dripping wet after each wash.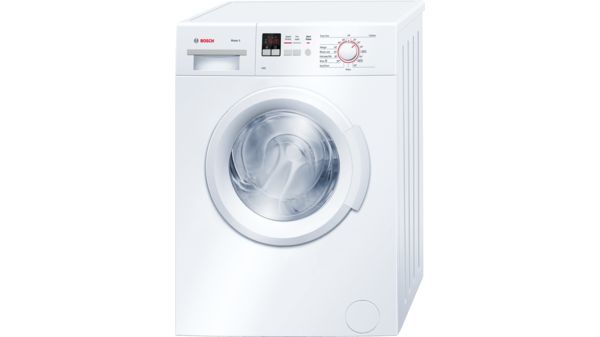 Faster Washing with Fantastic Results
Faced with keeping on top of an ever growing pile of laundry? With the handy SpeedPerfect function on the WAB28161GB, you can fly through the washing. SpeedPerfect washes clothes in up to 40% less time than a typical cycle. Simply press the SpeedPerfect button for a faster wash. And the great news is, you won't be compromising on the quality of the wash. You can still get beautifully clean garments in nearly half the time. SpeedPerfect can be used with most programmes, making it ideal for whatever you're washing, from delicates to duvet covers.
Allergy+ for Allergy Sufferers & Sensitive Skin
For those in your family who suffer from allergies, the Allergy+ cycle is a real lifesaver. Combining additional rinses with hotter temperatures to combat common allergens such as dust mites, pollen and grass, Allergy+ helps protect your family and keep clothes clean and fresh.
Care for Cottons and Delicates
When it comes to cotton, Bosch knows how to deliver great cleaning results, while caring for our precious fabrics. Choose from seven different Cottons washes. From as low as 20ºC up to 90ºC. And for delicate fabrics such as silk, the Delicates cycle gently washes clothes, without damaging them. Put your trust in Bosch to look after your clothes.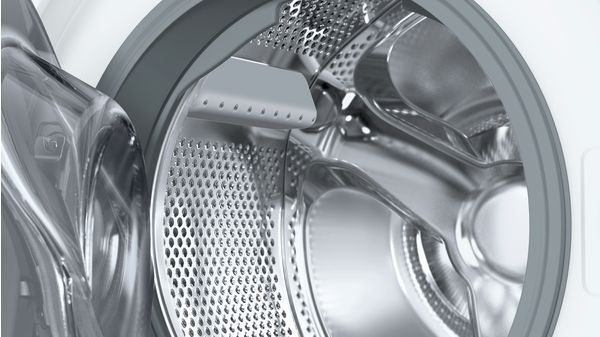 Save Money & Energy with Excellent Energy Efficiency
Awarded the highest possible energy efficiency rating of A+++, the WAB28161GB will help cut down on those energy bills. So, you can save money in the long run. This means that your machine will wash clothes in the most energy efficient method possible. Meaning you can feel good about saving money and saving the planet at the same time.
And thanks to ActiveWater™ technology, the WAB28161GB will also save water. ActiveWater uses a two step automatic load adjustment process, assessing the soiling and weight of your wash, before automatically adjusting its settings to use the least amount of water. So, no more wasted water.
The WAB28161GB is super easy to use, featuring a simple electronic control dial for programme selection, and a clear LED display. Featured programmes include Easy-Care, Allergy+, Mixed Load, Delicates/Silk, Wool, Spin/Drain, Rinse and Cottons. The machine also comes with a handy Pre-wash function. Other buyers particularly recommend the WAB28161GB for its low operating noise and brilliant washing results.
We stock a wide variety of Bosch products. You can order online, in store or by phone. We guarantee the best price on all Bosch washing machines. Joe Graham & Son Ltd offers fast delivery and installation throughout Luton. Plus great customer service. Order your Bosch appliance today from Joe Graham & Son Ltd.