Meet the Bosch Serie 8 KIF86PF30 Fridge Freezer. With a 223L total capacity, this built-in fridge freezer is capable of handling up to 12 bags of shopping at a time. Perfect for medium-sized households.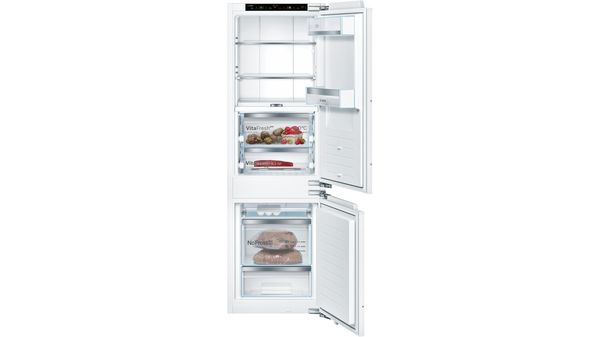 Keeps Food Fresh Up to 3x Longer
The most important thing you need to look for when buying a fridge freezer is its ability to keep food fresh. The KIF86PF30 comes with hybrid cooling and lasting freshness technology. Designed to keep food fresh for longer. We take a look at some of this appliance's advanced freshness features...
Starting with the fridge compartment. The KIF86PF30 comes with two VitaFresh pro drawers. The 0ºC drawer includes humidity control. So, you can store fruit and vegetables at their optimal humidity, helping them last longer. And the second VitaFresh drawer is perfectly configured for storing meat and fish in their ideal conditions. VitaFresh helps food last three times as long as a standard fridge. So, nothing should go to waste.
FreshSense technology creates the perfect environment for your food. With intelligent sensors that continually monitor and control the temperature, FreshSense minimises temperature fluctuations. A constant temperature is key to retaining freshness and consistency.
Did you know that when you load new groceries into your fridge freezer, the items already in there can start to defrost? And that can make them lose their freshness! Which is why the Bosch SuperCooling and SuperFreeze functions are so smart. Just before you're about to head out for your grocery shop, activate the SuperCooling/SuperFreeze functions with the touch of a button. The temperature lowers so that when you return ready to add in the new groceries, they'll chill more quickly. Leaving your other food items unaffected. And to ensure no unnecessary energy waste, the setting will switch back to normal after six hours.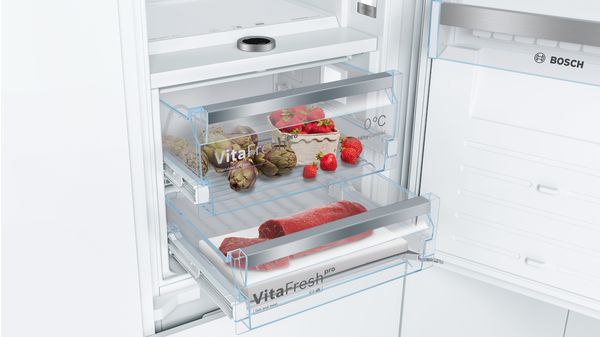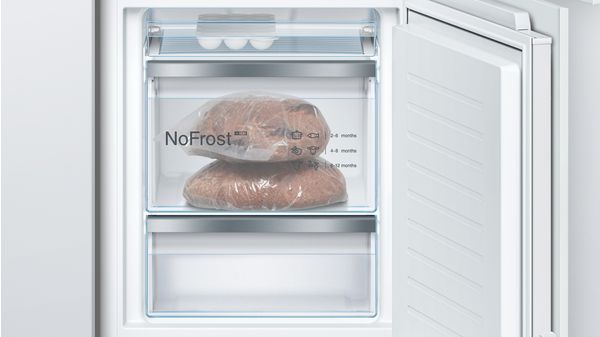 A++ Energy Efficiency
Speaking of energy, the KIF86PF30 comes with an A++ energy efficiency rating. So, it'll help you save money on your energy bills. And thanks to NoFrost technology, you won't be expending all your energy defrosting your appliance every couple of months. It automatically defrosts itself, saving you the trouble!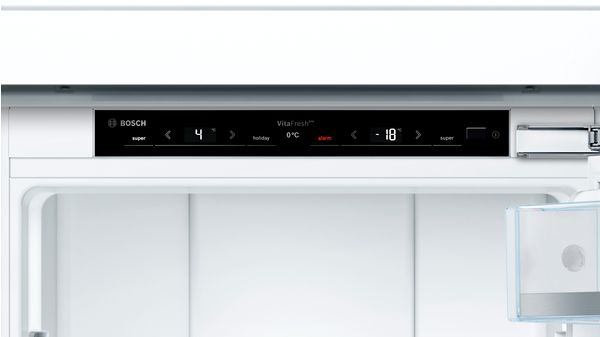 Spacious Storage for Groceries
There's plenty of room for storage in the KIF86PF30. 156L The fridge features three safety glass shelves and two-door trays. The centre shelf is ultra-convenient. It's a VarioShelf, which means it can be separated, with the front half sliding neatly underneath. This means you can store awkward items such as tall bottles and jugs with ease. Two of the shelves are height adjustable, too. Giving you complete flexibility.
Down in the 67L freezer compartment, you'll find three transparent drawers for quick and easy organisation of all your frozen items. The handy BigBox drawer is capable of handling all those extra-large items that are too big for a standard freezer drawer. All of the drawers are removable. Meaning you can even store really tall items, such as a multi-layer wedding cake, with no trouble.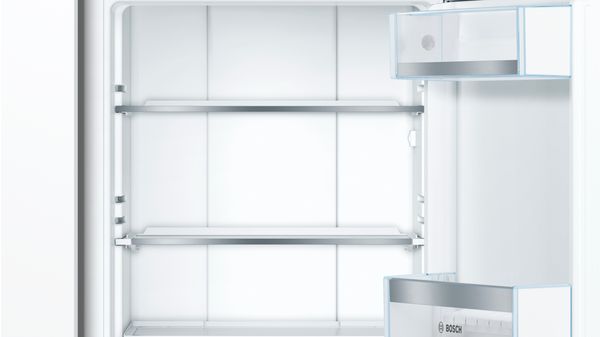 Designed With Convenience in Mind
The KIF86PF30 is designed with convenience in mind. Premium LED lighting helps keep the contents of the fridge illuminated. And a handy alarm signals if there is a problem with the appliance, such as the door being left ajar. While the reversible door means it can be installed anywhere in the kitchen. And with easy to clean removable seals, keeping it in good condition is simple.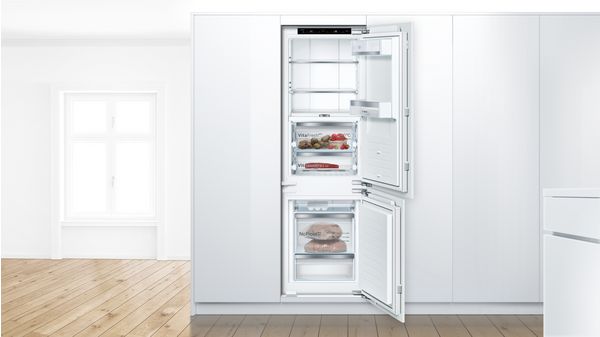 Order the Bosch KIF86PF30 Fridge Freezer from Joe Graham & Son Ltd. We guarantee the best prices on all our Bosch appliances. Order in store, by phone or via our website to collect in store or for delivery across Luton. Contact Joe Graham & Son Ltd to learn more.