Speed up your laundry routine with the Serie 4 Bosch WTE84105GB Tumble Dryer. This freestanding condenser tumble dryer boasts a large 7kg capacity. Perfect for tackling a hefty washing load.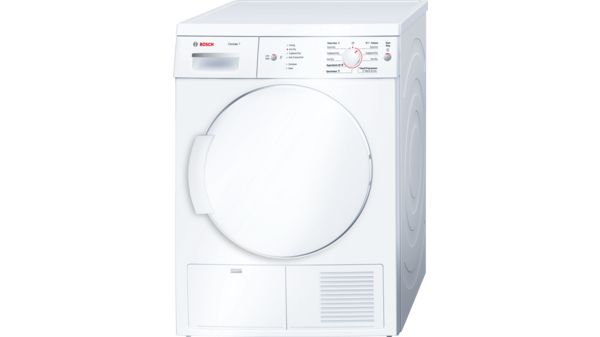 Smart Drying with AutoDry
With the WTE84105GB, there's no more worrying about shrinking or overdrying clothes. Thanks to AutoDry, once your clothes are at your desired level of dryness, the dryer will stop. It does this using intelligent sensors, which monitor the temperature and moisture of the load. Protecting your clothes, sheets and towels from overheating during the cycle. Choose the level of dry that suits you, be it Iron Dry, Cupboard Dry or Extra Dry. The dryer's electric damp detector will adjust the program to suit your needs.
SensitiveDrying System: Caring for Clothes
Featuring Bosch's smart SensitiveDrying System, clothes are gently dried, without being subject to rough handling or excessively high temperatures. Instead, garments are carefully buffeted on all sides by mild, warm air. While the curving soft carriers inside the machine's fabric friendly drum structure gently mix clothes, leaving them crease free at the end of the cycle. You can also choose the Low Heat option for those extra delicate garments.
No More Creases
The WTE84105GB helps prevent clothes from creasing, with a dedicated anti crease cycle. Towards the end of the drying program, the 60 minute anti crease cycle kicks in, tumbling clothes to prevent wrinkling and creases. Meaning you'll spend less time on the ironing and more time kicking back and relaxing after a job well done.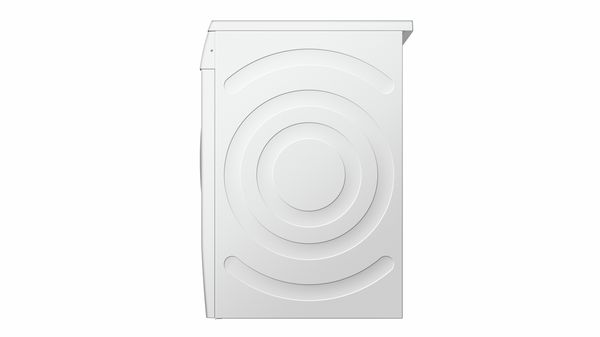 In a Rush?
If you need dry clothes fast, the Super Quick 40' cycle can handle light loads, drying them in as little as 40 minutes. The program monitors the dryness of your clothes, using high precision temperatures to get them dry quicker. Simply pop them in the dryer, activate the program and your clothes will emerge warm, dry and ready to wear.
Sportswear & Outdoor Wear
Protect your outdoor wear and sports kits with the machine's dedicated Sportswear program. Modern microfibres stay strong and colours vibrant through every cycle. No need to worry about your clothes losing their integrity or colour. The WTE84105GB cares for outdoor clothes.
Excellent Drying Results
This five star rated dryer comes highly recommended. Delivering great drying results, while caring for clothes. The machine works fast, stopping only when the load is done. It is easy to use, with an LED progress indicator to let you know how your laundry is getting on, and a fluff filter warning, to keep your dryer in full working order. The filter itself is easy to clean. And, with a large water bottle, you won't need to keep emptying it after each cycle.
Its unique AntiVibration Design means that you won't be disturbed by rattling when the dryer is on. Instead, the sturdy structure is much quieter than standard dryers.
Order the Bosch WTE84105GB Tumble Dryer online, in store or by phone from Joe Graham & Son Ltd. For great customer service, unmatched prices and fast delivery in Luton, shop with Joe Graham & Son Ltd today.